If you know me well enough, you know that I can't pass up a chance to watch something about zombies. Out of all the scary shit out there, they're the ones that I love watching the most. Yeah, they're slow as hell, and are probably not that threatening unless they're a part of a bigger and more dangerous horde, but that's not the reason why I'm addicted to them. It's the fact that the zombies symbolize something else  – the fall of civilization. This horde of zombies we see walking in the horizon? That's made up of former CEOs, mothers and fathers, teachers, doctors and soccer players – people from all walks of life, falling so easily to a virus or disease that ate away their humanity and left nothing but a hunger for flesh that could never be sated.
This is why I love reading about zombies, and why I couldn't help but want to watch this show. Even if I kinda gave up on the original series, The Walking Dead (because it was so sloooooooow; surely, you guys understand this?).
First impressions: it was kinda different from what I expected. That doesn't make it bad, though.
The story starts off real slow, although not The Walking Dead slow (oh god, don't let it be that slow, please!). There's this dude waking up in some abandoned church, having spent the night there doing god knows what. It becomes pretty obvious that he's a junkie – he looks all disheveled, and he's walking in a manner that I have seen quite a few times in real life – those who fill their belly with booze without a care in the world. There were two things I noticed from the get-go: his hideous fashion sense and this rather weird orange filter-like-thingy that vaguely resembled those of Instagram's. I wasn't a fan of it, especially since when he ran out of there (after stumbling upon his zombie and half-eaten friends), he didn't go out into the Twilight zone, so I just didn't get why the church had to look like it was eaten by an orange light. It looked weird, seriously.
Now, I'm probably being unnecessarily nitpicky here, so let's move on.
I do have to say, that as soon as the guy walked out of the church, I was expecting zombies to come rushing out and eat him alive. I definitely was expecting a scenario where the dude went to sleep, and shit happened while he was in dreamland, eventually waking up to a world that has gone to complete ape-shit. So when I saw that the world was still alive and kicking and full of activities?! I got the chills. Why? Because I knew what was going to happen to this city, to these people, to the world. It will become a wasteland, a living hell, and all of these people wereoblivious of what was to come, and it seriously gave me goosebumps. All of this life… to end soon, and they didn't even have a clue.
Unfortunately, the scenes after this were kind of lackluster for me. So here we have a mom and her boyfriend with two difficult kids – a rebellious daughter and a drug addict of a son. As for the biological father? No clue yet, although I don't doubt he's going to appear in some sort of flashback or in a rescue mission soon. Nick (the drug addict) was apprehended by the police and is in the hospital, recovering. He tries to tell them about what he saw in the church, but the police and his mom brush his claims off as the rambles of a mad lunatic, except for the boyfriend who actually tries to investigate the church only to find the blood and gore and basically mayhem inside, prompting the question, "Could he actually be telling the truth?!"
I do have to say that I really couldn't care less about these scenes. I mean, I'm all for family drama, but something like that needs some sort of emotional investment from me first before I could really appreciate it. I just met these guys and we already have these mother-son episodes and it took every fiber of my being not to roll my eyes, because it all felt so… superficial. While the guy acted splendidly (his acting was really believable as someone who was getting withdrawals and as someone who didn't know what to do with himself), the mom wasn't someone I could really see myself connecting to in an emotional level, and there are some reasons why:
Her acting needs a little more work. She claims to be worried sick over her son but I don't really see this love and care and worry in her gestures and facial reactions.
Her personality is just so bland. Does she even have one? She's like a cardboard cut-out of the typical American mom. This is only the first episode, but Lori from the original The Walking Dead had more personality than her. I feel like I'm watching the main character in CSI: Cybercrime, whose lack of TV charisma made me want to gouge my eyes out.
There was this one time that I cared about them, though… there was a scene where the son was pleading her to believe him, was pretty much begging her to help him, and she kinda just dismissed him and was all like, "You need rehab, dear." Her boyfriend even went to the scene and verified what Nick was saying and she was all like, "Hahahaha, yeah, no. He has drugs in his veins, you can't possibly believe him."
My reaction in a nutshell: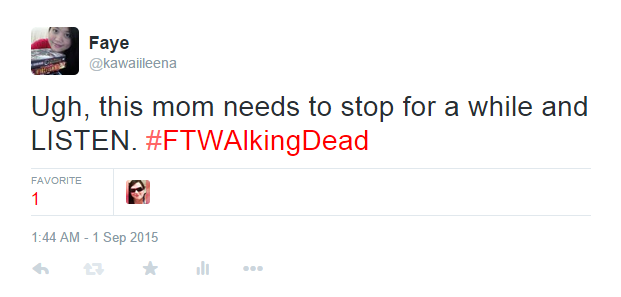 Ugh, it drove me crazy. I just don't like watching holier-than-thou parents pretend they know what's best for their kids while not actually stopping to actually listen to them and see what's on their mind. I know, I know, this is probably going to change later on because #CharacterDevelopment, but that doesn't make it any easier for me to swallow.
Obviously, this is a change of pace from the original series. This has less action. This has more emphasis on family. Granted, the other one has quite an emphasis on family, too, but I feel like here it would be more stressed. We already have two rebellious kids, a worrywart of a mom, and a pretty awesome boyfriend to boot. Right now, it's not connecting with me much, but I'm sure I'll care for them later on when things start going apeshit.
As for zombies…
The first episode is lacking these flesh-eating abominations, which is quite surprising. You'd think it would be explosive right off the bat, but that isn't the case – rather, it uses a sort of gradual tension that (surprisingly) puts you on your toes. There are reports about things that are supposedly dead waking up and biting people. Less students are coming to school every day. Ambulances and police cars come and go. There are continuous reports of crime scenes gone awry – gunned down individuals standing up again and again. It's like this looming feeling that you know that any minute now, the world is going to be changed forever.
And I like that. I really like it. I love this gradual tension, this kind of "countdown" to when everything really falls, and how we're going to watch this particular family with problems of their own survive it to the end.
Also, can we just pause for a while to celebrate the fact that Lexa from The 100 is here?! I was so ecstatic to see her in this show because I loved the actress in the other one. You know it's something when she has a name in Fear the Walking Dead, but it kind of tunes out and you still call her Lexa. Hah.
All in all, not a bad start. Not the best pilot EVAR, but it at least sets in stone the direction of the show and the overall feel. A definite, solid 6 out of 10.
The following two tabs change content below.
A 22-year-old Filipina who loves to look at the stars and wonder what else is out there. She's quite the dreamer, and oftentimes gets philosophical about the meaning of life. She loves books, food, and languages. She reviews books and raves about anything bookish at
The Social Potato
. You can find her tweeting
here
.